2 Days Guided Komodo Kayaking Tour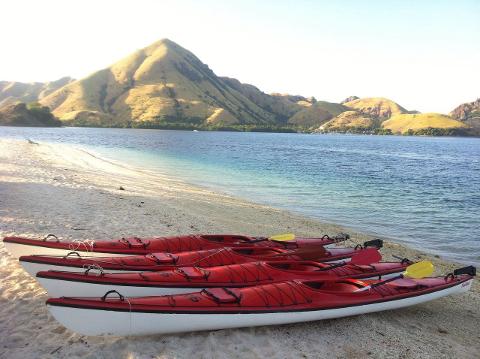 Duration : 2 Days (approx.)
Product code : 2daykayak
Explore the deserted bays and beaches, experience unique marine life and get up close and personal with the awe-inspiring Komodo Dragon on our 2-day Komodo kayaking tour. Our tours through Komodo are as unique as they are amazing, as we are the only locally operated company that offers sea-kayaking trips through this incredible park.
Our trips not only bring you face to face with dragons, manta rays and turtles – but the kayaks were travel on are hand built in Papua making a difference in the lives of the islanders. In fact, throughout your journey you will find that you make a big difference in the lives of the communities you visit. Not only in the life of the guides, but the meals we eat, the treks we take and event he homes we stay in! From our internship program to the invitations into our friends houses in the villages – Wicked Adventures is making a positive impact. You make that happen. In fact, on almost every tour you will not only have a guide, but an intern who is going through our non-profit training program.

We are the only locally run and guided tours operating in the region. With the help of an experienced guide, we will paddle between the stunning islands, camp on (or sleep on boat near) uninhabited islands and visit local villages. Through the journey we will have chances to snorkel, swim with the amazing marine life - including Manta Rays.
The highlight of the trip is a trek to see the Komodo Dragon, the largest lizard on the planet. Found only inside the the 1,817-square-kilometer Komodo National Park, a UNESCO World Heritage Site, is one of the treasures of Indonesia. On this journey, you will see these amazing creatures first hand, while experiencing the wild natural beauty of their habitat from the seat of your kayak.